Post by Jopper13 on Apr 5, 2019 17:20:57 GMT -5
== LOCATION ==
"Larp Land" in New Lisbon, WI
W7111 New Frontage Road
New Lisbon, WI 53950
- Take interstate to New Lisbon, take 61 exit
- Turn onto Frontage Rd near Mobil/McDonald's
- Go 1.3 miles on Frontage Rd/42nd St
- Drive past Victory Fireworks and Car Dealership
- Destination will be on the right and marked with signs
*** The entrance to the property will be marked with GOLD Last Hope LARP signs
== DATE & TIME ==
Important Dates:
Thursday, October 17th
- Early Bird Membership deadline
- Expanded NPC Role Signup deadline
Tuesday, October 22nd
- PC Skill change/update via email deadline
Saturday, October26th (EVENT)
- Registration opens – 8:30am
- Registration closes – 10:00am
- Event briefing – 10:30am
- Scenario Begins – 11:00am
- Scenario Ends – 4:00pm

***NOTE: If you are unable to make it before the official start time, it is your responsibility to notify a herald and get checked-in and NOT disturb the game in progress. You can do this by discreetly finding a herald on the field and having them assist you.
== MEMBERSHIP INFO==There is no cost/charge/entry fee to participate in this event at the New Lisbon, WI land and all are welcome to participate regardless of their membership status or not.
***NOTE: You MUST do BOTH (pre-register AND pay for your chosen membership services) before you are considered fully pre-registered for an event!

Click here to pay for your membership services for October!
then...
Click here to pre-register and sign-up for the October Event!
== STORY INFO & SPECIAL MECHANICS ==
With the conflict between Clan Stormjarl and Clan Grimward coming to an end last month, attention shifts over to the struggling Clan Squallborn. Several years ago, Squallborn allied with Clan Grimward and fought against the colonists and their allies in the Ulven civil war. When the war was over, Clan Stormjarl and New Aldoria retaliated against this smaller Clan and conquered a sizable portion of their territory. Since then, they have been vocal about their situation and the struggles of the Clan. All attempts to raid or fight back against Clan Stormjarl and New Aldoria have been easily turned aside.

In a shocking move, the Warleader Calder Whitecap approached the Clan Stormjarl delegate last month and discussed a possible future for their people. Asking for support through the winter and agreeing to get their Clanleader to talk to Clan Stormjarl regarding an agreement that will lead to an alliance of sort for Clan Squallborn. Although previous enemies from battlefields on both the coasts of Stormjarl and Squallborn lands, it seems that hatred has cooled and Clan Squallborn leaders are looking towards the future.

However, news of allying with their recent conquerors has not been well received among the people of Clan Squallborn. In a loud and defiant cry of outrage, the remaining Chieftains in power have stated that they will not follow the Clanleader and support this decision. The Warleader, in defense of the Clanleader, has issued a challenge to those Chieftains; fight and win independence or lose and submit to this decision. The primary Pack Squallborn is gathering together its warriors and champions to receive challengers. An event like this is rare among the Ulven people but has happened in the past when the future of a Clan is at stake.

Although this upcoming event is a series of controlled duels and challenges, many have heard of the event and plan to travel. Whether to lend aid to one side or another, to speak from a stance of neutrality or using diplomacy to sway support, or to bring wares to cash in on this public spectacle, the eastern lands of Clan Squallborn will soon be bustling with many different people.

Allies to the main Pack Squallborn who want to see the pack united and moving forward together are planning on being in attendance to fight on behalf of the Clanleader and the Warleader. Opponents to Clan Stormjarl "conquering" the rest of the Clan are expected to be in attendance as well, lending their aid to have Chieftains fight for independence or to possibly support any number of other agendas. Rumors say that other Clans are turning attention towards these rebelling Packs, hoping to encourage them to seek out other lands or territories. In these duels of martial contest and skill, Champions can be chosen to help either side... and the outcome will forever seal the fate of Clan Squallborn.


= EVENT SPECIAL MECHANICS =
1) Ritualized Duels
This event will focus on a number of different martial challenges and duels. Each duel will represent a Pack or a series of Packs that are either fighting for independence or being forced to submit to the will of the Clanleader. These will range from a series of single duels, group duels, or even battle games testing martial strength against various opponents.
== EVENT INFO === PRE-REG FOOD & DRINKING WATER =
Pre-registered members will be provided a small meal on Saturday.
Only pre-registered members (PCs & NPCs) will be added to the list for food as this helps us plan ahead of time.
We will NOT be providing feastware for meals (which will be in-game); please make sure you bring feastware!
*** You should plan on bringing some extra food/snacks and water to tide you over for the rest of the event. ***
There will be some water brought in for use during the event, but players should also plan to bring their own and carry it with them.
** Plan ahead, be self sufficient, and bring your own food/water! ***= CAMPING, BATHROOMS, FIRES, WATER, & ELECTRICITY =
- There is limited tent-camping space available but since this is a single day event, camping should not be necessary.
If you want to camp before or after this event, you must contact the land owners and get permission BEFORE the event via lasthopelarp@gmail.com
- If you need a motel, there is an AmericInn and the Edge of the Woods Motel nearby
- There is a porta-potty onsite in the parking area for players. If you need a bathroom facility, please plan on driving 1.3 miles back to Gas Station.
- Campfires are allowed as long as they are
PRE-APPROVED BY A HERALD
and either in an above-ground firepit or dug into a below-ground firepit. We are planning on using a firepit during the event.
Any additional fires will be strictly, enforced, monitored, and must be pre-approved.
- There is NO running water at the site.
- There is NO electricity at the site.
= REGISTRATION AREA, PLAYING FIELD INFO, & SAFETY =New Lisbon, WI
- The entrance to the property is flanked by several driveways we (might) have permission to park on if needed. Please check-in or get directions before you park.
You are allowed to park on the road as an overflow but you MUST park on our side of a road, try to keep the entire vehicle off the road, and minimize foot traffic on the road.
- The property boundaries to the north, west, and east are marked by GREEN flagging tape. The neighbor's driveway is also a boundary to the east. The southern boundary is the clearing leading up to the interstate.
- There are several deer stands on the property; at this time, we ask that you do not go into any of them.
- Do not cut down any trees without approval.
- Do not use adjacent driveways/neighbor property without explicit permission!
- Be cautious about driving into the property due to sunken/mucky areas and existing stumps.

- Staff and approved players have access to a Snake Bite/CPR/First Aid Kit if needed. A number of staff are CPR and/or First Aid trained. In case of emergencies, immediately contact staff and let them handle it.
= NIGHT CONDITIONS =

This event will *NOT* take place during night conditions.
= WEATHER CONDITIONS, PARKING & DRIVEWAY=
Plan accordingly! We will have loaner garb for NPCs but please make sure to plan to bring weather/temperature appropriate base layers.
August is traditionally hot!
*** Base/thermal layers do not need to fit Decorum but outer layers do... please make sure you get your garb checked! PLAN ACCORDINGLY! ***

***NOTE: Because of the wetlands nature of the property, we are assuming the property will be fairly mucky and the parking lot not accessible if it rains before or during the event. If needed, we will plan on shuttling players back to the nearby gas station to park vehicles and then get shuttled back to the event property.
*** If you park on the road, all participants must do their best to park ALL VEHICLE WHEELS off of the road and on the grass. An easy rule of thumb; if you can park and all 4 tires are in the grass, you are good.

= EXPANDED NPC ROLE SIGN-UP =
There are NPC roles available during this event. If you are interested in playing an NPC role, please contact us ahead of time to let us know... see below for options.
- The
"Expanded NPC Role Sign-Up Deadline"
is the same cut-off as the membership Early Bird deadline
(by Thursday, 10/17/19)
and this will add you to the list to get a more detailed or involved NPC. This gives us time to flesh out a backstory, details, and how your NPC can impact the scenario.
The staff will then email you back your detailed NPC role before the event, usually a bit after the pre-reg deadline ends.
= EARLY BIRD DISCOUNT =
- The
"Early Bird Discount Deadline"
is the week before the event
(by Thursday, 10/17/19)
and this will place you on the list to get the pre-reg meal and automatically add you to the "Faster Check-In" line, allowing you to register much quicker at the event.

= PC SKILL UPDATES =
-
If you have updates to your PC,
DO THEM AHEAD OF TIME AND EMAIL US THE CHANGES!!!
The deadline for these changes is the Tuesday before the event (10/22/19).
You cannot do skill updates at the event and also be in the "Faster Check-In" as we prepare your card/bag/wristband/etc early in preparation of your arrival and day-of PCs can wait until after registration is complete for the majority of the player.
IF WE HAVE TIME, then we can update your PC skills. There is no guarantee we can do this at an event due to the registration time needs.= LATE PLAYERS =
We are following a strict time-block for check-in/registration so players will be expected to arrive on time to get registered and then attend the game briefing. This helps us make sure we stay on time and keep the game starting when we need it to.
If a player is going to be late and they are going to arrive after registration closes, they are expected to notify the staff by emailing the lasthopelarp@gmail.com address to let us know.
This allows us to pull the PC cards and info and prepare their items for when they arrive. Failure to do this will result in an exp penalty if a player arrives after reg closes but before the briefing, or a forced NPC role if the player arrives after the briefing. This does not mean we do not have wiggle room; all you have to do is notify us ahead of time via email so we can prepare accordingly.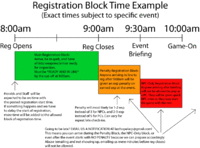 = RESOURCE & LORE SKILL USAGE =
Players may have a PC(s) use a Resource skill to make an impact on an event but only if they are planning on attending the upcoming event.
Resource Usage for this event needs to be submitted VIA EMAIL no later than midnight on 10/5/19.
Information gained from this Resource usage will be available at Check-In at the event.
IT IS YOUR RESPONSIBILITY TO ASK FOR THAT INFO!
Players should please try to make sure they are going to be in attendance before sending in their Resource usage.
This is also a reminder to ask about Lore cards at check-in! Frequently, there are Lore cards available for you to read that represent your characters ability to know about things going on in the area. Some of this information can be really useful to know!
= MANDATORY CHECK-OUT =
All players are required to properly check-out at every event. Make sure you plan on doing this by seeking out a Herald to turn in your PC card and relevant game props along with you and your equipment's condition.
We will be doing a Check-Out after each day so that players can turn in their items.
If you checkout as a PC, you may not "check back in" after a period of time.
Once you check out as a PC, your PC is done for the event day.
There may be limitations on how and where PCs can check out at an event; ask instead of assuming if you feel like your PC would leave early, and then staff can assign you a role after that.