Post by Jopper13 on Dec 22, 2017 9:46:54 GMT -5
== LOCATION ==
"Larp Land" in New Lisbon, WI
W7111 New Frontage Road
New Lisbon, WI 53950
- Take interstate to New Lisbon, take 61 exit
- Turn onto Frontage Rd near Mobil/McDonald's
- Go 1.3 miles on Frontage Rd/42nd St
- Drive past Victory Fireworks and Car Dealership
- Destination will be on the right and marked with signs
*** The entrance to the property will be marked with GOLD Last Hope LARP signs
== DATE & TIME ==
Important Dates:
Thursday, November 29th
- Early Bird Membership deadline
- Expanded NPC Role Signup deadline
Tuesday, December 4th
- PC Skill change/update via email deadline
Sunday, December 9th (EVENT)
- Registration opens – 8:30am
- Registration closes – 10:00am
- Event briefing – 10:30am
- Scenario Begins – 11:00am
- Scenario Ends – 3:30pm
***NOTE: If you are unable to make it before the official start time, it is your responsibility to notify a herald and get checked-in and NOT disturb the game in progress. You can do this by discreetly finding a herald on the field and having them assist you.
== MEMBERSHIP INFO==There is no cost/charge/entry fee to participate in this event at the New Lisbon, WI land and all are welcome to participate regardless of their membership status or not.
Click here to pay for your membership services for December!
then...
Click here to pre-register and sign-up for the December Event!
== STORY INFO & SPECIAL MECHANICS ==
SATURDAY
Last month, the combined forces of the Ulven army were met head on by a sizable Mordok force. How the Mordok were able to organize such a force and who is commanding them is still unknown. Reports of a strange new Mordok, adorned in brighter colors and displaying high level of intelligence, have been seen leading them. This new enemy appearing cannot be dismissed as coincidence. In an immense battle involving thousands of warriors on both sides, the Mordok forces were able to deal a massive blow to the Ulven army. Slogging through the muck of the swamp, the fighting was reduced to brave Ulven and brutal Mordok meeting in close and vicious combat. The fighting lasted hours as both sides were unwilling to retreat.
The decisive move of the Mordok to send considerable forces at the Ulven army's flanks proved to be too dangerous to ignore. Under threat of being overwhelmed from the sides, the Ulven forces called for a fighting retreat. War packs were cut off from the main lines, and supply wagons abandoned as the terrain would not allow them to regroup easily with the main army forces. Small camps were overrun and occupants butchered or dispersed. In a single day of violent battle, almost two thousand Ulven and Mordok lay dead in the swamp, staining the ground and waterways red. Although this initial defeat is harsh on Ulven forces, these proud warriors are a long ways from being beaten or overwhelmed.
The Ulven army, under the command of the Clanleaders and their Warleaders, have pulled their forces back to a high ground in the area. Above the muck of the swamp, this area is the best place to attempt some kind of defensive fortifications or semblance of a camp. Crews take turns sleeping, defending, or building to stay warm and to ensure there is enough room in the camp. Over a few weeks a decent camp emerges. Wounded continue to trickle in from the defensive perimeter and war packs sent to counter Mordok movements engage in short and brutal missions, necessary to keep Mordok forces from dominating the area for too long.
Some reinforcements arrive from the Shield of Mardrun but sending supply wagons is risky; the Mordok continue to patrol and harass and maintain a solid presence near the camp. As the buildup to another bloody confrontation continues, the ability to prepare for this next battle and maintain critical routes for troops and supply wagons could be the deciding factors.
In this Dirge Swamp combat event, players will help determine whether the Ulven forces recover from this initial defeat and push the fight back to the Mordok or are forced to attempt to retreat back to the Shield of Mardrun... if they even can.
Event Story Summary...
- Last month the large Ulven army marched north into the Dirge Swamp
- A large army of Mordok appeared to fight them in a large and bloody battle
- The Mordok were able to flank the Ulven army and forced the Ulven army to retreat
- The Ulven army has fallen back to a defensive high ground and built a camp
- The Ulven army must control areas and conduct missions to help oppose Mordok forces in the area
- Controlling these areas and completing missions will factor into how difficult the upcoming battle will be
- The upcoming battle will determine the Ulven army's ability to continue to fight or if they must retreat
= EVENT SPECIAL MECHANICS =
1) Military Camp
For this event, the Ulven army in the dirge swamp have dug in and made a very simple base camp out of existing trees and some supplies. Players will be using the main base camp for this event, allowing them to coordinate a defensive perimeter.
2) PCs & NPC Respawns
Players who choose to attend as PCs will not have the option to "drop out" of playing a PC and switch to an NPC unless their PC is killed or has used Last Hope or True Grit due to a battle. Being too wounded to continue will require PCs to role play as such in-game. NPCs will be able to continue to pull "reinforcements" from a nearby pool of troops that represent available forces in the area. This means that PCs and their skills/equipment along with NPCs and their groups of reinforcements will both be resources that must be managed accordingly.
There may be opportunities during the day to send wounded back on supply wagons to safety, but how that can be done will need to be coordinated in the field.
3) Route Control
After the brutal fighting and chaos of last month's battle with the Mordok, there will be two areas that must be controlled. The first, the Supply Route, will keep some of the larger trails and pathways open for wagons and carts to move or rejoin the army camp. The second, the Troop Route, will keep some of the critical approaches and routes to move freely in this area of the swamp open for warriors and scouts. Both of these locations must be controlled and cleared of Mordok for as long as possible throughout the day. The longer they are controlled, the more it will impact the Mordok forces in the area. Failure to control these points will result in Mordok getting better leverage over the Ulven forces in the area, making a significant impact on the war effort. These points will be checked for control every hour on the hour, representing their overall control throughout the day.
4) Special Missions
Several missions may be available to the Ulven army and its allies, allowing players to further make an impact on the war effort by completing them. These will be revealed to you during the event and will require managing forces.
5) Build towards Decisive Combat
This event is focusing on a build up to a decisive battle that is imminent later on in the day. The amount the Supply or Troop movement routes controlled and the number of special missions completed will heavily impact this battle. The military camp can also willingly choose to make things more difficult by "drawing attention and more Mordok to this area" which will allow nearby Ulven forces a chance to make a bigger impact. The final hour of this event could be anything from a simple repelling of a handful of Mordok to a desperate holdout against unfathomable odds.
== EVENT INFO === PRE-REG FOOD & DRINKING WATER =
Pre-registered members will be provided a small meal on Saturday. Only pre-registered members (PCs & NPCs) will be added to the list for food as this helps us plan ahead of time.
*** You should plan on bringing some extra food and snacks to tide you over for the rest of the event. ***

We will NOT be providing feastware for the meals (which will be in-game); please make sure you bring feastware!
There will be some water brought in for use during the event, but players should also plan to bring their own and carry it with them.
** Plan ahead, be self sufficient, and bring your own food/water! ***= CAMPING, BATHROOMS, FIRES, WATER, & ELECTRICITY =
- There is NO tent-camping space available at this event. If you need a motel, there is an AmericInn and the Edge of the Woods Motel nearby
- There is a porta-potty onsite in the parking area for players. If you need a bathroom facility, please plan on driving 1.3 miles back to Gas Station.
- Campfires are allowed as long as they are
PRE-APPROVED BY A HERALD
and either in an above-ground firepit or dug into a below-ground firepit. We are planning on using a firepit during the event.
Any additional fires will be strictly, enforced, monitored, and must be pre-approved.
- There is NO running water at the site.
- There is NO electricity at the site.
= REGISTRATION AREA & PLAYING FIELD INFO =New Lisbon, WI
- The entrance to the property is flanked by several driveways we (might) have permission to park on if needed. Please check-in or get directions before you park.
You are allowed to park on the road as an overflow but you MUST park on our side of a road, try to keep the entire vehicle off the road, and minimize foot traffic on the road.
- The property boundaries to the north, west, and east are marked by GREEN flagging tape. The neighbor's driveway is also a boundary to the east. The southern boundary is the clearing leading up to the interstate.
- There are several deer stands on the property; at this time, we ask that you do not go into any of them.
- Do not cut down any trees without approval.
- Do not use adjacent driveways/neighbor property without explicit permission!
- Be cautious about driving into the property due to sunken/mucky areas and existing stumps.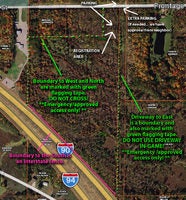 = NIGHT CONDITIONS =

This event will not take place during night conditions.
= WEATHER CONDITIONS =
Plan accordingly! We will have loaner garb for NPCs but please make sure to plan to bring extra layers to keep warm; gloves, boots, etc.
*** Base/thermal layers do not need to fit Decorum but outer layers do... please make sure you get your garb checked! PLAN ACCORDINGLY! ***= EXPANDED NPC ROLE SIGN-UP =
There are NPC roles available during this event. If you are interested in playing an NPC role, please contact us ahead of time to let us know... see below for options.
- The
"Expanded NPC Role Sign-Up Deadline"
is the same cut-off as the membership Early Bird deadline
(by Thursday, 11/29/18)
and this will add you to the list to get a more detailed or involved NPC. This gives us time to flesh out a backstory, details, and how your NPC can impact the scenario.
The staff will then email you back your detailed NPC role before the event, usually a bit after the pre-reg deadline ends.
= EARLY BIRD DISCOUNT =
- The
"Early Bird Discount Deadline"
is the week before the event
(by Thursday, 11/29/18)
and this will place you on the list to get the pre-reg meal and automatically add you to the "Faster Check-In" line, allowing you to register much quicker at the event.

= PC SKILL UPDATES =
-
If you have updates to your PC,
DO THEM AHEAD OF TIME AND EMAIL US THE CHANGES!!!
The deadline for these changes is the Tuesday before the event (12/4/18).
You cannot do skill updates at the event and also be in the "Faster Check-In" as we prepare your card/bag/wristband/etc early in preparation of your arrival and day-of PCs can wait until after registration is complete for the majority of the player.
IF WE HAVE TIME, then we can update your PC skills. There is no guarantee we can do this at an event due to the registration time needs.= LATE PLAYERS =
We are following a strict time-block for check-in/registration so players will be expected to arrive on time to get registered and then attend the game briefing. This helps us make sure we stay on time and keep the game starting when we need it to.
If a player is going to be late and they are going to arrive after registration closes, they are expected to notify the staff by emailing the lasthopelarp@gmail.com address to let us know.
This allows us to pull the PC cards and info and prepare their items for when they arrive. Failure to do this will result in an exp penalty if a player arrives after reg closes but before the briefing, or a forced NPC role if the player arrives after the briefing. This does not mean we do not have wiggle room; all you have to do is notify us ahead of time via email so we can prepare accordingly.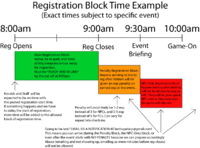 = RESOURCE & LORE SKILL USAGE =
Players may have a PC(s) use a Resource skill to make an impact on an event but only if they are planning on attending the upcoming event.
Resource Usage for this event needs to be submitted VIA EMAIL no later than midnight on 12/5/18.
Information gained from this Resource usage will be available at Check-In at the event;
IT IS YOUR RESPONSIBILITY TO ASK FOR THAT INFO!
Players should please try to make sure they are going to be in attendance before sending in their Resource usage.
This is also a reminder to ask about Lore cards at check-in! Frequently, there are Lore cards available for you to read that represent your characters ability to know about things going on in the area. Some of this information can be really useful to know!
= MANDATORY CHECK-OUT =
All players are required to properly check-out at every event. Make sure you plan on doing this by seeking out a Herald to turn in your PC card and relevant game props along with you and your equipment's condition.
We will be doing a Check-Out after each day so that players can turn in their items.
If you checkout as a PC, you may not "check back in" after a period of time.
Once you check out as a PC, your PC is done for the event day.
There may be limitations on how and where PCs can check out at an event; ask instead of assuming if you feel like your PC would leave early, and then staff can assign you a role after that.